ESOF PCI ASV: Your Ultimate Solution for Streamlined PCI DSS Compliance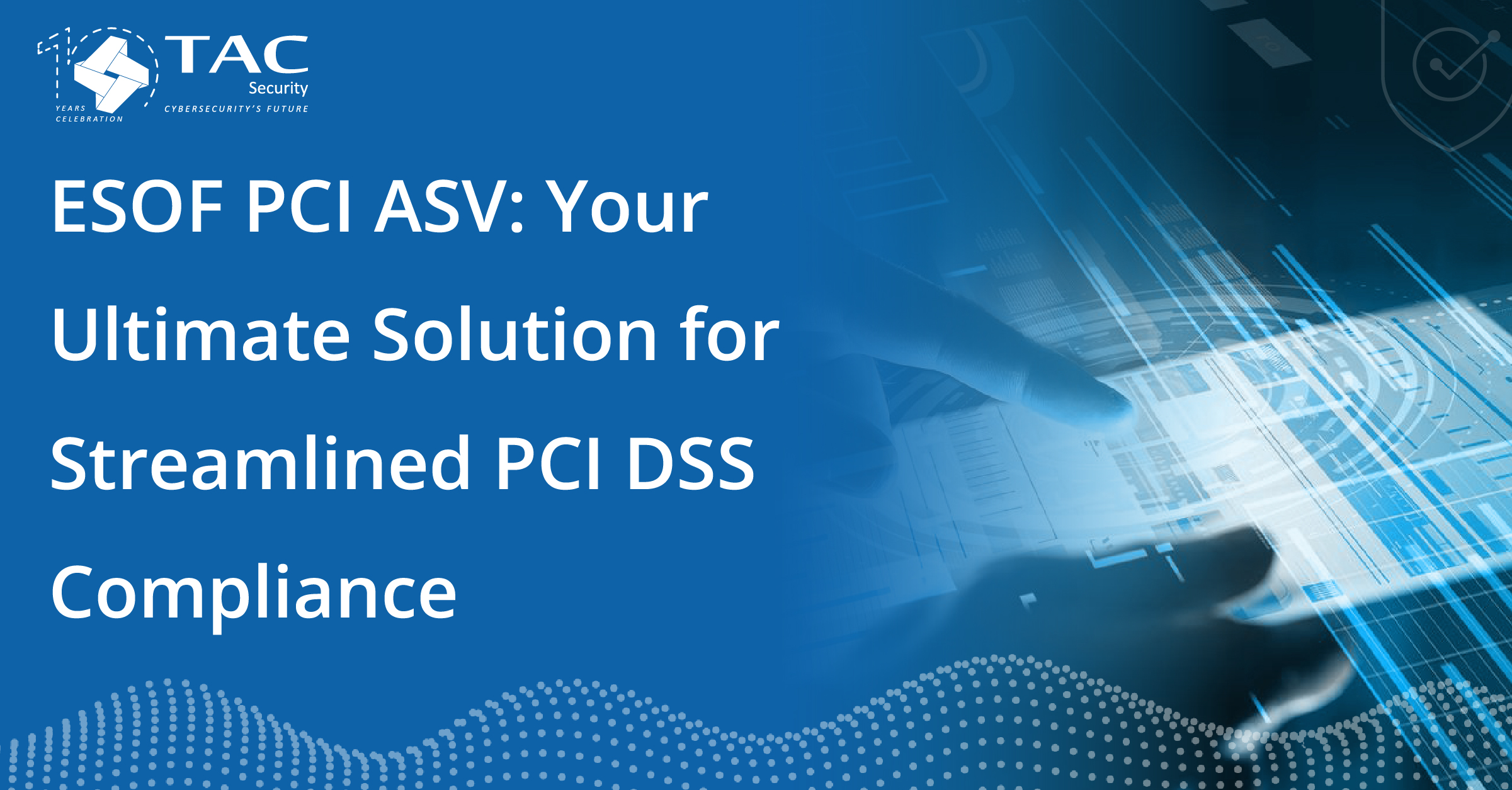 Payment card data security is a non-negotiable priority in today's rapidly evolving digital landscape. With the Payment Card Industry Data Security Standard (PCI DSS) compliance not only mandatory but essential, businesses are on the lookout for effective ways to safeguard customer information and maintain an impeccable reputation. Addressing the intricacies of PCI compliance, TAC Security proudly presents ESOF PCI ASV. This comprehensive and integrated solution has been crafted to simplify the path towards PCI DSS compliance. In this article, we will explore why ESOF PCI ASV is the top choice for businesses aiming to bolster security measures while seamlessly navigating the landscape of PCI DSS compliance.
All-in-One Compliance Solution
ESOF PCI ASV adopts a holistic approach to PCI DSS compliance, bringing together crucial components within a single, cloud-based platform. By amalgamating different elements, this integration not only facilitates the collection of telemetry data but also simplifies the identification and resolution of compliance-related issues. The result is a clear and real-time snapshot of your organization's PCI posture, which empowers your security teams to make well-informed decisions and take proactive steps to enhance overall security.
Comprehensive Adherence to PCI Requirements
ESOF PCI ASV distinguishes itself by offering comprehensive coverage of PCI requirements. With a remarkable focus on addressing over 97% of PCI requirements, spanning asset management, both internal and external vulnerability management, payment web application security, secure configuration management, PCI ASV questionnaires, and more, you can rest assured that your organization is on the path towards achieving substantial PCI DSS compliance.
Focusing on Vital Control Gaps
The realm of cybersecurity often highlights the top 20 control gaps that can significantly influence an organization's security standing. ESOF PCI ASV empowers businesses to effortlessly visualize and tackle these control gaps, thereby providing a strategic advantage in mitigating potential threats and vulnerabilities effectively.
Automated Quarterly Scanning
Quarterly scanning is a critical cornerstone of PCI DSS compliance. ESOF PCI ASV simplifies this process by automating external vulnerability scan submissions and dispute procedures. This automation not only saves precious time but also reduces the manual workload. The solution goes a step further by generating user-friendly, comprehensive reports that validate your network's compliance and offer guidance for remediation, guaranteeing a smooth and efficient journey toward compliance.
Intuitive User Interface
ESOF PCI ASV boasts a user-friendly interface that acts as a central hub for managing not just PCI DSS compliance but your entire vulnerability management process. From initiating scans and managing them to submitting and completing the attestation process, the all-in-one workbench simplifies complex tasks, thereby elevating overall operational efficiency.
Tailored Solutions for Organizations of Every Size
ESOF PCI ASV caters to businesses of varying scales, presenting tailored solutions meticulously aligned with specific requirements. Regardless of whether you're a dynamic startup or a well-established enterprise, ESOF PCI ASV offers comprehensive compliance suites, expanded asset coverage, detailed remediation guidance, and dedicated support. This ensures that you derive maximum value from the solution, regardless of your organizational size.
In the dynamic world of digital security, TAC Security, ESOF PCI ASV rises as the ultimate ally for businesses striving to fortify their security measures while seamlessly navigating the intricate landscape of PCI DSS compliance. With its unified approach, exhaustive coverage, automated processes, and user-friendly interface, ESOF PCI ASV firmly stands as the definitive choice for simplifying the multifaceted realm of PCI DSS compliance.