MSME India celebrated the most promising MSMEs under various categories
Delhi, India:  TAC Security, A Silicon Valley-based Cyber-Security company, bags Enterprise of the Year – Cyber Security at the MSME India Business Awards 2022| Tech India Transformation Awards 2022.  The awards celebrate the diligent work and persistence of entrepreneurs and honor the brands that have had a profound impact on the sector and the economy as a whole. 
The Jury this year included notable personalities like DR. AJAI CHOWDHRY – Founder, of HCL, DR. GANESH NATARAJAN – Executive Chairman & Founder, of 5F World, DR. RITESH MALIK – Founder & CEO, of Innov8 Coworking, DR. S. GLORY SWARUPA Director General, National Institute for Micro, Small and Medium Enterprises, VINEETA HARIHARAN – Public Policy Expert, Former Chief of External Missions, Ministry of Micro Small Medium Enterprises and DR. INDRAJIT GHOSH – Global Chairman – MSMECCII; Chairman – ICMEI Environment & Senior Vice Chairman – Commonwealth Entrepreneurs Club, London.
"This is my first award with TAC Security and it was received as soon as I came aboard which to me speaks volumes about the organization and its strides towards making cyberspace secure. Being coined as Enterprise of the Year – Cyber Security sure puts a lot of responsibility as well as continues to motivate us to power through full throttle ahead." said, Gourav Mahajan – Vice President of Operations, TAC Security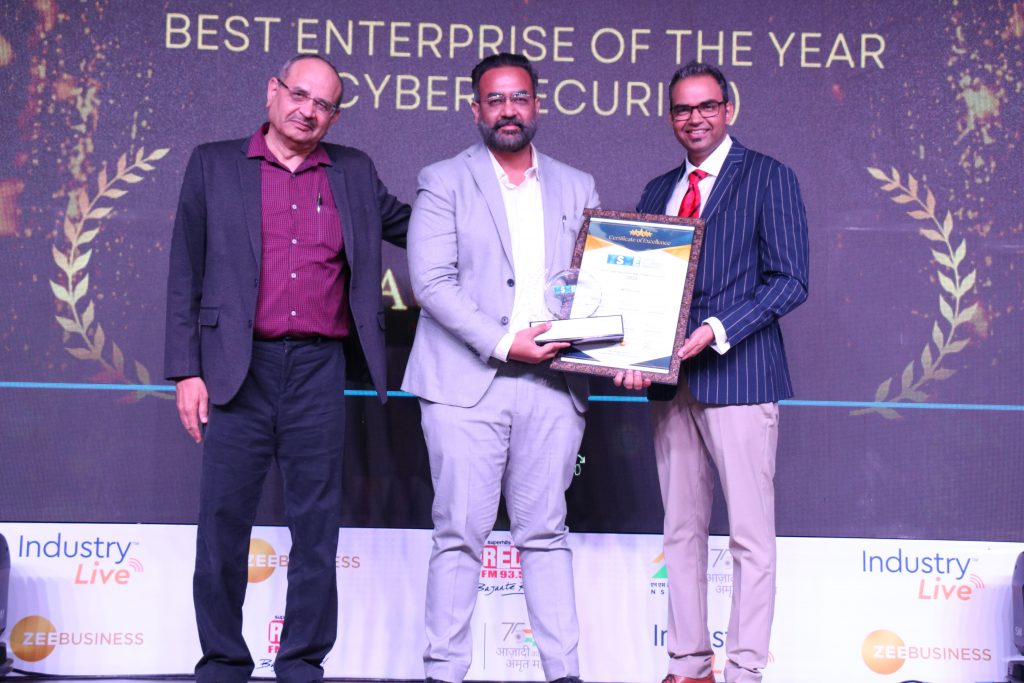 Today, the MSME sector contributes 30 % of the total GDP of the Indian economy and It is also responsible for 50% of the country's total exports. Similarly, the number of women-led MSMEs has increased significantly. All these factors have led to India emerging as a prime player in a variety of spaces competing globally on all fronts.
Other sectors awarded included Healthcare, Wellness, FMCG, Greenstarups, Travel and Tourism, and more. 
About MSME India Awards –
The MSME sector is one of the most challenging and fiercest when it comes to competition. The trends and techniques in the sector have grown to be more versatile and flexible, thus enabling more room for growth and up-gradation. MSME India Business Awards bring success stories to the audience by recognizing their commitment to this ever-growing industry to ensure that more and more people understand and engage with the value and dynamics of running a successful business.
About TAC Security
TAC Security headquartered in San Francisco is a global leader in Vulnerability Management that protects Fortune 500 companies, leading enterprises, and governments around the world. TAC Security manages 5+ Million vulnerabilities through its Artificial Intelligence (AI) based Vulnerability Management Platform ESOF (Enterprise Security in One Framework). TAC Security has established strategic partnerships with leading cloud providers and managed service providers and consulting organizations including Tech Mahindra, IBM, KDDI Japan, and distributors including Dataguard Technologies LLC and Ingram Micro. For more information, visit here.