Vulnerability management deals with the cybersecurity of systems and software. It is primarily a backup arrangement with other tactics to protect tech-systems. Vulnerability management works by identifying and recognizing the vulnerable malware and then treats it and reports to the system. With the advancement of Computer Science and technology, the world is moving rapidly to the era of digitization and technology. So, to have a healthy web-based society we need to ensure its safety and security.
So, we need to make a better way to deal with security issues. On the other hand, vulnerabilities of security come from technological weakness. So, VM needs to run in a continuous process to make the system aware of new vulnerabilities.
Traditional Vulnerability Management
Traditional Vulnerability Management (VM) involves using scan-based technologies to identify unpatched weaknesses that could be exploited by hackers. In the past, the focus was scanning fixed network infrastructure and applications, and creating reports of vulnerabilities so Security and IT teams could address them. This approach has become far less effective and efficient over time because of the sheer volume of vulnerabilities that exist in increasinging complex networks that include cloud-based assets and applications, and the ever growing digital connectivity of remote workers. The attack surface increased significantly, and scan reports from traditional tools can contain thousands of records that must be manually reviewed to assign priority. This renders traditional approaches insufficient, even though many companies still use this technology. While there have been advances in the reporting to define bands of criticality, this approach still only focuses on vulnerability scores and does not prioritize action by potential business risks.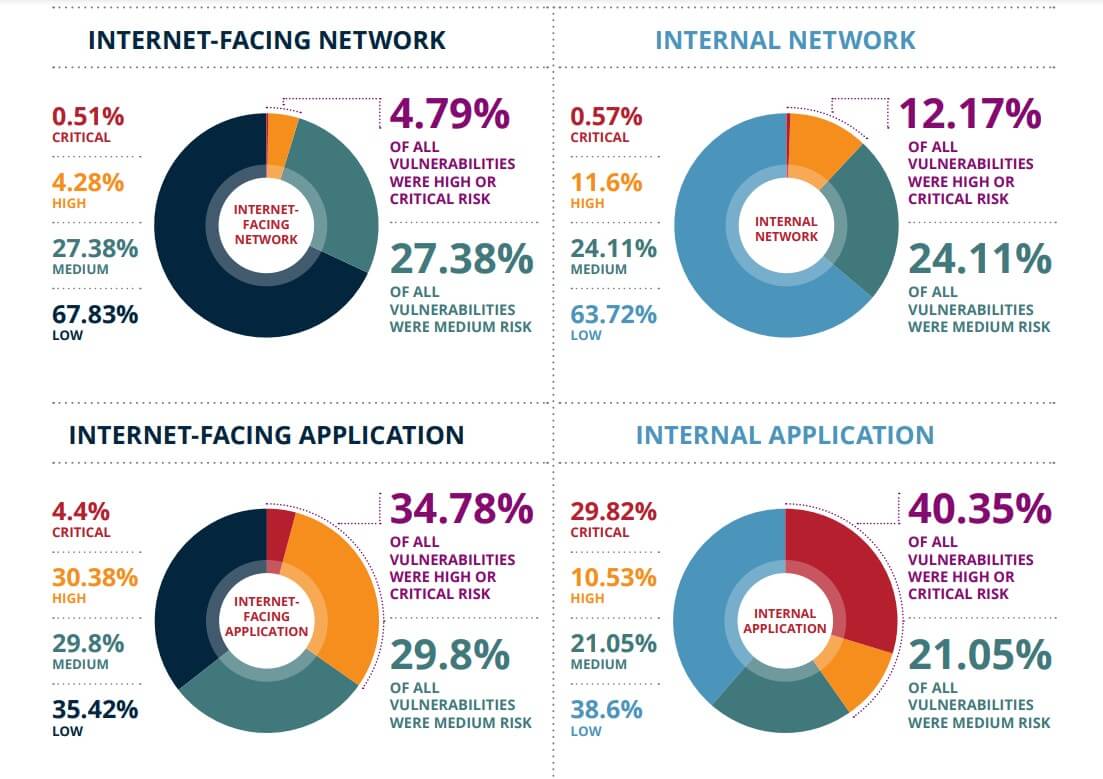 Image Source
Modern Vulnerability Management
In the past few years, these problems with traditional VM drove the emergence of a more modern VM approach known as Risk Based Vulnerability Management (RBVM). In this approach, the traditional scan data is augmented in some way (e.g., Artificial Intelligence or Machine Learning) to rank the vulnerabilities so those that are most risky to the organization are prioritized first. This new breed of VM tools are known as Vulnerability Prioritization Technology (VPT), and traditional VM solution providers are working to add these capabilities to their tool set. Gartner notes that RBVM is the new normal and organizations should be moving in this direction. The limitations with VPT tools by themselves is two-fold: 1) they are reliant on traditional VM scan data they don't collect, and 2) they are often a prioritization and reporting tool, vs. a solution that helps organizations address the riskiest vulnerabilities.
Next Generation Vulnerability Management
Next Gen Vulnerability Management (NGVM) is the next piece in the VM puzzle. NGVM solutions combine traditional VM and modern VPT to provide a holistic view of the most critical vulnerabilities and rank order them so organizations know what to patch first and how much risk they are addressing when they patch. In addition, NGVM solutions will use a variety of data sets in addition to VM data to provide a more holistic view of risk, and leverage artificial intelligence algorithms to drive clear visibility of enterprise risk. Unlike traditional VM, next gen vulnerability management focuses on the exposures and effectively predicts breaches, and recognizes systems which are susceptible to attack.
When reviewing NGVM solutions, one can see multiple capabilities that address previous problems. Some of these include:
Collection and measurement of vulnerabilities in Cloud infrastructure and applications.
Ability to accept and process data across a wide range of attack vectors, not just scanning and assessing vulnerabilities in unpatched systems.
A risk scoring measure at the enterprise and asset levels
Advanced technologies like Artificial Intelligence algorithms to provide refined views and scoring of risk across assets and risks and drive recommendation on susceptible assets and remediation playbooks.
Prioritize susceptible insecurities, so that the resources can be allocated efficiently and the improvement of the security risk posture can be achieved.
Technology like Machine Learning that can predict vulnerabilities per business unit or other organization structure.
Continuous, 24/7 monitoring of assets across all possible sources of attack makes the system able to mitigate the vulnerabilities.
Remediation'corrective steps to be taken' based on analysis of business risk magnitudes.
Modern Vulnerability Management
The evolution of enterprise networks is driving an ever-expanding range and volume of vulnerabilities, and this in turn is forcing VM solution providers to improve their offerings. Organizations who are focused on reducing their overall risk posture need better ways to understand and address the security risks from unpatched vulnerabilities because traditional and first gen RBVM solutions are no longer sufficient. To reduce overall risk posture from vulnerabilities you need a Next Generation Vulnerability Management solution that combines both VM and VPT capabilities.