Keeping a total count of all the vulnerabilities with accuracy and displaying it on a single screen is not something that every scanner or Vulnerability Management platform provides. Having a count helps to regulate a check on all the vulnerabilities and the position of an organization's data security. CISOs can review the performance of the data security teams according to the history of the vulnerabilities reported.
Various scanners provide csv and Xls spreadsheets which have large amount of data that take a lot of time to inspeact. But reviewing that data is necessary for an organization's cyber security.
ESOF platform displays all the severity levels (Critical, high, medium and low) on the same page which helps the CISOs to accurately keep a check on the vulnerabilities and point out the open vulnerabilities according to the severity more efficiently. Thus, saving a lot of valuable time for the various managers. This also adds to a database of all the vulnerabilities reported in the past which helps in aiding future patching of the vulnerabilities.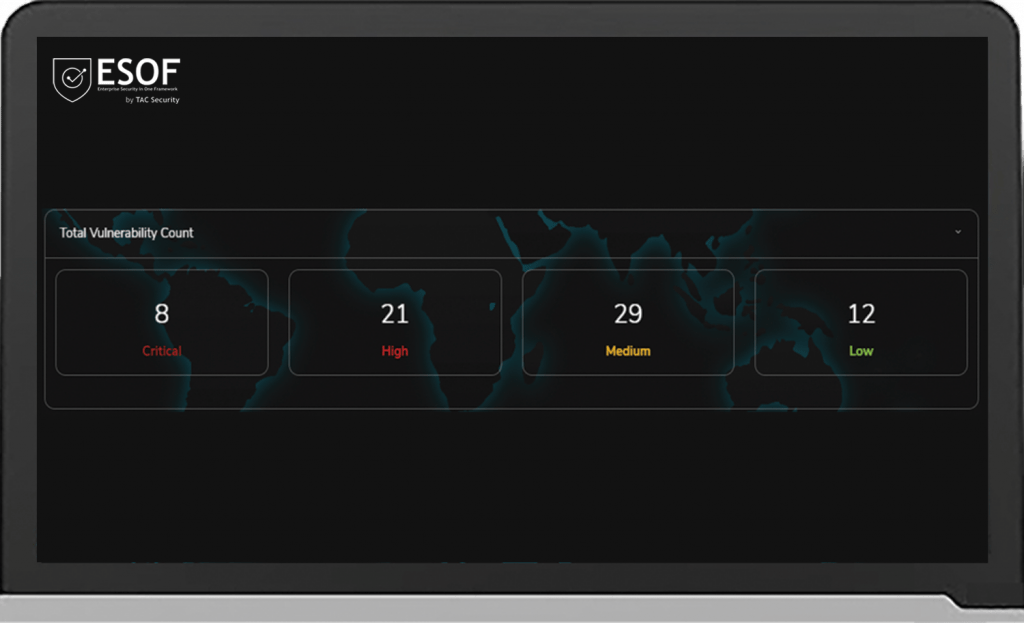 (ESOF by TAC Security Vulnerability Management – Total Vulnerability Count)
Pain Points:
Loss of valuable time to view the reports manually.
Lack of database to view the vulnerabilities reported in the past at 1 place.
Lack of ease of view of complex scan reports.
Value Points:
Easy view of count of all the severity levels at 1 place.
Differentiating and compiling all the vulnerabilities according to severity level makes it easier for the data security teams to work on it.
Critically open vulnerabilities can be easily analyzed.
To learn more about the Next – Generation Vulnerability Management tool – ESOF.