Transform Your Security Strategy into a Data-Driven Approach with ESOF!
Gain a Holistic Perspective of Cyber Risk​
Obtain a unified, comprehensive view with ESOF of your cybersecurity landscape with vulnerabilities assessed in the context of risk, along with a prioritized list of required mitigation actions. Benchmark and scorecard your risk owners.
Quantify Progress for Senior Leaders
Showcase the efficacy and trajectory of your security program to your board, executive leadership, and key stakeholders. Identify and address gaps, establish clear objectives, and execute strategic initiatives.
Better decision-making and action to reduce risk faster​
Using hard dollar impacts from not addressing risk makes it easier for management to decide so that risks are addressed faster​ with ESOF CRQ
Why choose ESOF by TAC Security
Simple and effective cybersecurity posture reporting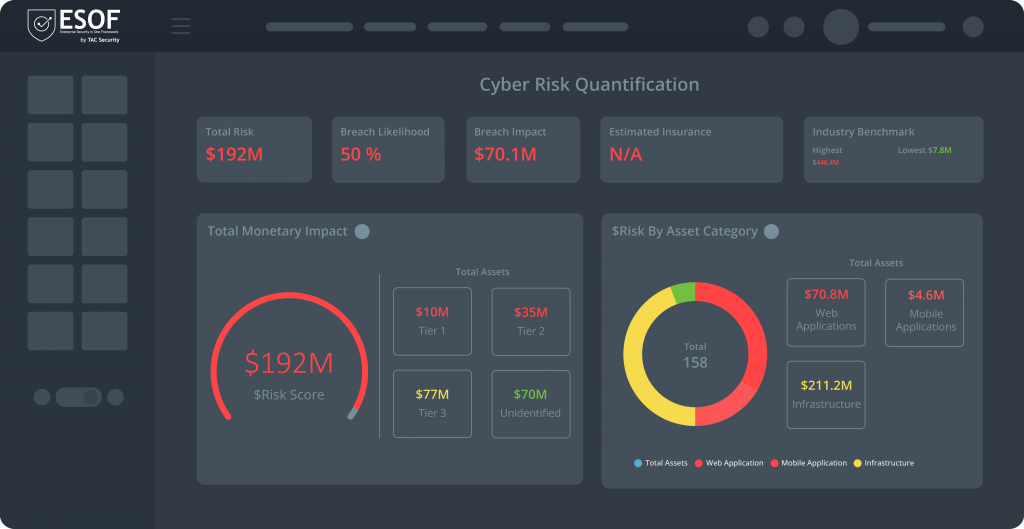 Demonstrate how your security program contributes to the success and growth of the business.
---
Enhance Your Security Program with ESOF
Comprehensive Risk Benchmarking
Measure risk across different Business Units and Types, providing valuable insights into potential vulnerabilities.
Effortless Risk Mapping
Seamlessly connect risk data to responsible owners, locations, attack vectors, and IT groups for a complete risk management framework.
Unified Risk Ownership
Bridge the gap between stakeholders using a common currency, whether it's Dollars, Euros, Pounds, or any other, to facilitate clear communication and decision-making.
Data-Driven Metrics and Gamification
Define the Key Performance Indicators (KPIs) that matter most to your organization and empower stakeholders by incorporating these metrics into their dashboards. Motivate and track progress to continuously enhance your cybersecurity posture.