Can you track all the Vulnerabilities found in your IT stack?
Organizations report millions of vulnerabilities which they need to monitor, regardless of them being patched in the past. This helps the CISOs to maintain a track record of the cyber security assessments and also analyze the data security team's performances. Regulating such practices can help to determine which vulnerabilities are likely to be exploited in the future. Also, a database of all the reported vulnerabilities helps the organization better understand and patch the vulnerabilities rapidly. Basic scanning platforms produce massive results in the form of csv and xls files. Manually reading those reports consume a lot of time and also making a database of such reports is a herculean task. ESOF complies all the severities and group them at 1 place for ease and thus saving a lot of time. ESOF platform allows the CISOs to track down all the reported vulnerabilities in the past to till date on a single graph. The vulnerabilities can be viewed weekly, monthly, quarterly and yearly basis in the form of a heat map. This helps the data security teams to efficiently patch the critical vulnerabilities before deadline as most of the new vulnerabilities are repeated ones and the database helps.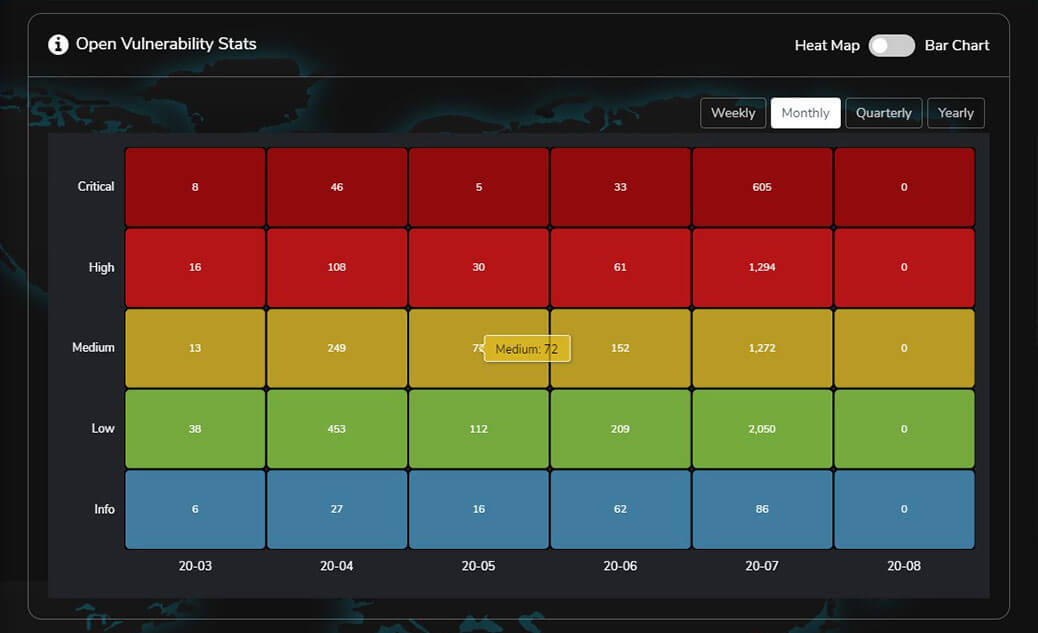 Pain Points:
Lack in review of a company's past vulnerabilities leads to increased cyber-attacks.
Review of overall vulnerabilities is necessary but is time consuming and complex.
Lack in study of the old reported vulnerabilities makes the future projects more vulnerable.
Lack in viewing the past vulnerabilities poses a challenge of vulnerability remediation.
Value Points:
With the review of previous vulnerabilities, the organization can establish a good hold on the future projects.
Heat map displays vulnerabilities on weekly, monthly quarterly and yearly basis.
Helps the CISOs keep a track of all the reported vulnerabilities with severity levels in a single graph which reduces the time.
Gives a proper remark in the history of an organization's vulnerability trend and future projects.
Easier comparison of projects from past to present.
Track your Vulnerabilities with the Next-Gen Vulnerability Management Tool - ESOF