Do you know most Critical Vulnerabilities or Assets of your organisation?
In organizations, regardless of their sizes, with time the data increases at unprecedented rates and it becomes more complex to manage and mitigate the vulnerabilities without prioritization. With the ever increasing data and the number of employees, the IT infrastructure grows tenfold. This increase in data and assets, leads the organizations to become more vulnerable to cyber-attacks. Also, with the ongoing daily scan uploads and reopening of vulnerabilities, it is hard to point out the most vulnerable assets and the severity of the open vulnerability. Such vulnerabilities or assets that are left unattended may result into a valuable data breach of an organization.

ESOF allows the CISOs to view the top 10 vulnerabilities and assets in an organization. The color coding of the vulnerabilities with the count provides an instant information for the security teams to act upon. If there are repeated vulnerabilities, then ESOF lists the same vulnerability once only i.e., it groups the vulnerabilities and gives a total count of the same severity level. Checking the top 10 vulnerabilities on daily basis helps the CISOs to secure an organization's data more securely.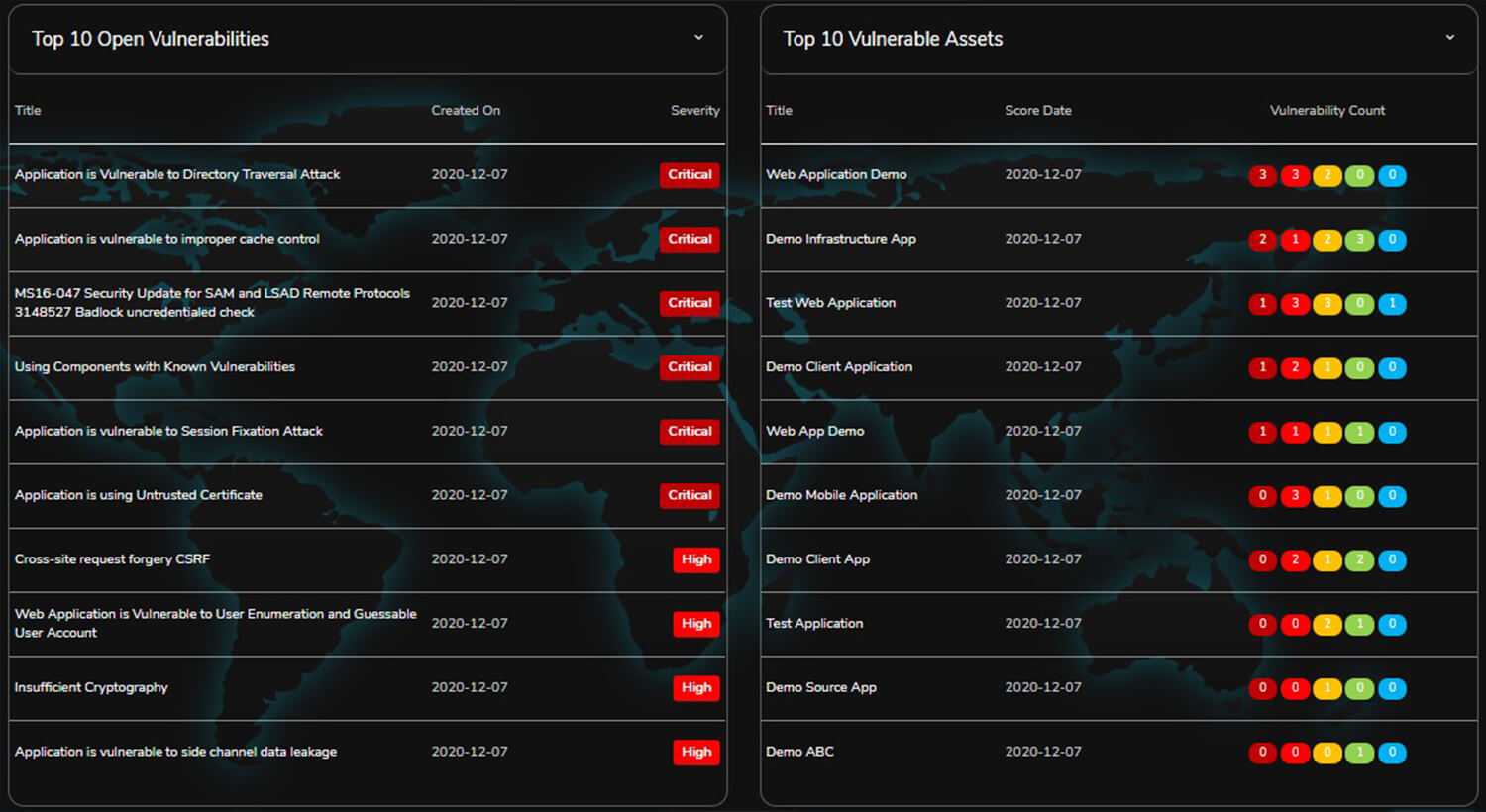 (ESOF by TAC Security Vulnerability Management – Top 10 Vulnerabilities and Assets)
Pain Points:
Lack of reporting the top vulnerabilities increases the cyber-attack risk of an organization.
In a report of thousands of vulnerabilities and assets, it is hard to locate the vulnerabilities with higher severity that need immediate attention.
With the addition of new vulnerabilities everyday it is hard to keep a track of top vulnerable assets or severities.
Value Points:
Top 10 vulnerabilities and assets count helps in getting accurate information regarding the most severe vulnerability and assets in an organization.
It cuts down the time to locate the vulnerability out of all the several thousands of vulnerabilities and assets.
You may be using legacy Vulnerability Management Tool.
Try Next-Gen Vulnerability Management Tool - ESOF!