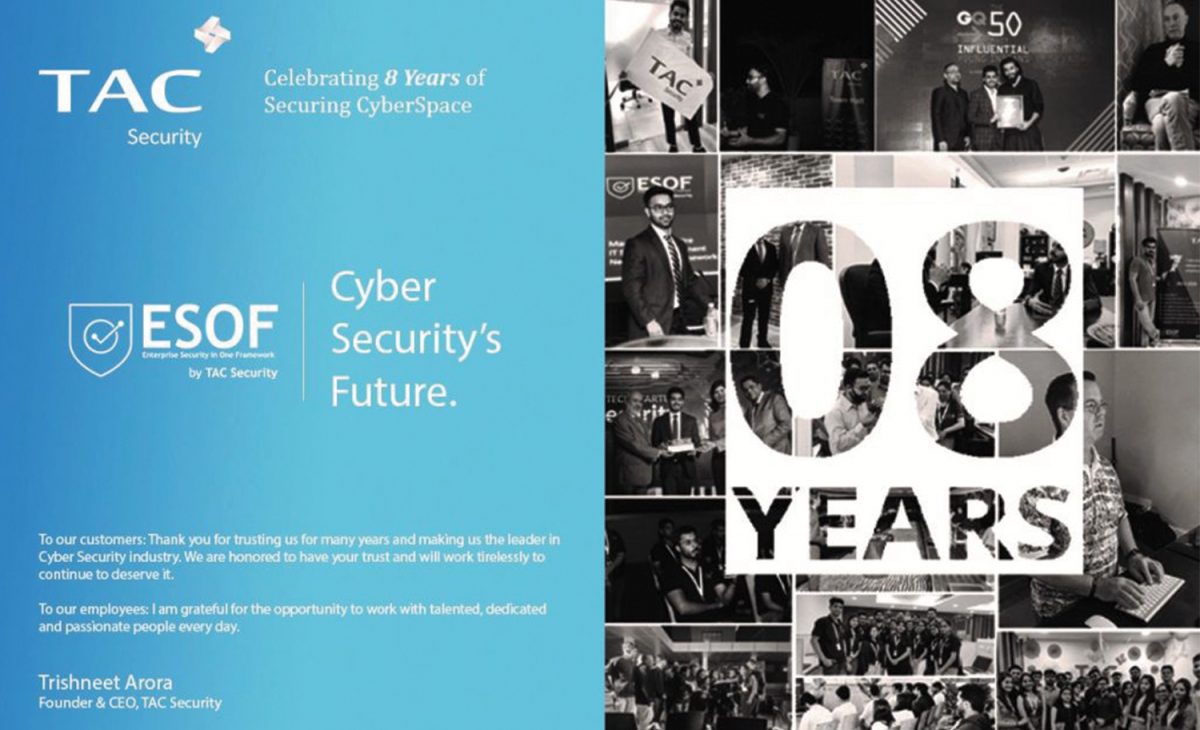 Celebrating 8 Years of Securing Cyberspace!
The previous year 2020 was a reality check and a wake-up call for the world where the importance of cybersecurity was heightened overnight as people had to adjust to the new normal of digital life. Amidst the change, we continued to secure cyberspace as we have for the last 8 years.
TAC Security was founded in 2013 with a vision of a person to secure cyberspace to his best abilities and is now backed by hundreds of VulMan across the globe. We are a Next – Generation Risk and Vulnerability Management company that protects the Fortune 500, Large Enterprises, and Governments globally with our state-of-the-art product ESOF – CyberSecurity's Future.
Security is in our DNA; we work round the clock to assure the highest level of cybersecurity with our products. We are the largest auditor of UPI applications, assess 10 Billion transactions for over 200+ Banking applications, and ensure that the top Fortune 500 companies are secured by ESOF. We also happen to be the only Indian cybersecurity company to work with the US Govt.
The last 8 years have been a milestone after the other and we hope to continue celebrating them with you all always.
To our clients – Thank you for the immense support and understanding all these years and for enabling us to be global leaders in the industry. We are honored to have your trust and will continue to work tirelessly towards keeping it.
To the VulMan – The world has seen tough times and even during those I am honored to have this power packed, houseful of talent that continues to back the vision and work effortlessly to serve everyone to our best abilities. I thank you for your passion and dedication towards your work.
We are looking forward to continue bringing CyberSecurity's Future, today and ensure the best possible safety levels in the industry.
Stay safe and stay secure.
Happy 8 years of TAC Security!
Trishneet Arora
Founder and CEO of TAC Security