Can you monitor all the assets of your organization in one place while characterizing them?
Keeping a total count of all the assets or scans and displaying it on a single screen is not something every scanner or Vulnerability Management platform provides. Having this in one place helps regulate a check on all the vulnerabilities.

ESOF displays the total number assets and scans of each category in the form of a pie chart. This helps the CISOs to figure out the total scans and Vulnerability Management score of an organization.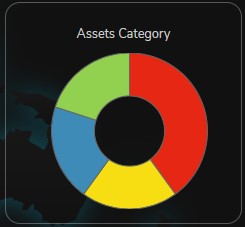 Pain Points:
Lack of understanding of an organization's vulnerability in the category of applications.
Lack of categorization leads to misinformed vulnerable assets.
Consumes a lot of time of the CISOs if they manually search for each category.
Value Points:
Provides an organized view of the organization's assets and applications.
CISOs can accurately view the total number of scans in each category at one place.
Reduces the valuable time of the CISOs.
Simplified view makes it easy to understand
Try Next-Generation Vulnerability Management Tool ESOF's Asset category feature